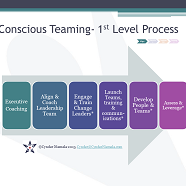 How conscious leaders engage and lead creative, high performing teams for sustainability.
Have you ever known someone who worked on a team that brought out the best in all the players while also achieving results beyond anyone's expectations? Alternatively, have you ever worked on a team that started out well – everyone was friendly and eager to contribute; but it never recovered from what seemed like a minor setback?
Organizations have been looking to team structures and increased teamwork to meet the new demands of today's pressure cooker business environment. Yet while teams are an exciting way to organize people at work, they come with a hefty cost. Teams are tough to manage in the best of circumstances, and are a nightmare if only a few things go wrong.
"Only three things happen naturally in organizations: friction, confusion, and under-performance. Everything else requires leadership." Peter Drucker 
Most organizations are in a crisis today: the level of employee engagement is at an all-time low. According to Gallup, "only 30% of US workers today admit to being engaged in their jobs … Why? 70% say they aren't getting proper support from their leaders." Dr. Jim Harter, Director of Research, Gallup 
In a recent survey of Fortune 500 CEO's, the number one issue facing these leaders is the creation of a "team based culture."
Today's complex business environment requires leaders with a very high level of conscious awareness, a deep understanding of complex systems, and they are characteristically collaborative and compassionate.
In this presentation to ASTD, Cynder Niemela takes participants through her systemic and integrated approach to leading teams for sustainable high performance.
For more information on this and any other presentations, please contact us.
Cynder Niemela, MA, MBA leads a strategic management-consulting firm specializing in innovative change management, employee engagement and development programs for leaders, managers and teams that result in measurable business success and individual fulfillment. Our mission is to help business owners and managers build their capacity for collaborative leadership and teams in order to achieve highly engaged workplaces and resilient, sustainable cultures.