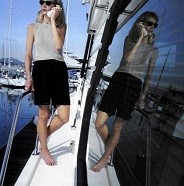 What do our clients say about being coached?
One reason great leaders are so effective is that they are always trying to improve themselves – not just asking everyone else to improve. Our most successful clients are dedicated to walking-the-talk; they are great role models in consistently working to evolve their self-leadership.
More about Executive Coaching 
"Perhaps it's the same reason that Tiger Woods needs a coach, or Pete Sampras needs a coach. Tiger Woods would say I know how to play golf, but his coach is probably the most important person in his life". –Barry Mabry- Ernst & Young Partner Fortune Magazine
"Coaching has helped me to recognize that I have choices and has taught me how to take responsibility for those choices.  My coach helps me to see challenges in a different way.  Now I view challenges as exciting opportunities!"  –District Manager, Manufacturing Company
"I began coaching because I felt stuck in my career.  I started with my company right out of college and I felt like I was going nowhere fast.  I realized I was spending 90% of my time in 10% of my life … at the office.  Through the activities and models my coach brought to our coaching, I realize how little I understood what was truly important to me and what kind of life I wanted.  I have found a new role in my company and feel more passion for life in general."  –Partner, Financial Services Firm
"Coaching has provided me with a way to assist my team members in identifying their skills, communicating more effectively, and developing strategies to empower themselves and others to successfully reach their goals. " – Executive, Financial Services
Recognized in Fortune Magazine as a pioneer in executive and team coaching by Ernst & Young, Cynder Niemela has authored and been featured in numerous articles on the subjects of change management, leadership and team development and employee engagement. Her book, "Leading High Impact Teams" was voted one of the top 10 business books in 2002 and 2003 by CEO Refresher.
Contact us today to schedule your complimentary 30-minute coaching conversation.