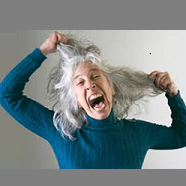 The cost of uncontrolled stress to American business is high -exceeding 300 billion dollars each year as a result of drug and alcohol abuse, absenteeism, medical expenses, excessive turnover and lost productivity causing decreased effectiveness on the job. A new term, DESK RAGE has emerged as a result of work stress and office violence.
Managing stress is a cost-effective business decision that builds loyalty and commitment to the organization. In this workshop, Cynder Niemela and Jeff Gero discuss:
What stress is and how it affects us
The Cost of Stress in the workplace
What other companies are doing to manage workplace stress, and
the measurable benefits gained such as decreased costs, enhanced quality of life and productivity of their employees
Jeff Gero, Ph.D is a pioneer in the field of stress management and the creator of the Success Over Stress System. Dr. Gero has worked with many organizations dealing with a variety of stressors over the past 30 years. A partial client list includes the California Department of Corrections at San Quentin Prison, Los Angeles Times, Allied Signal, JPL (NASA), paramedics in the California State Firefighters Association, General Motors, Sheraton Hotels, The Army, Xerox, Amgen and Dole.
Cynder Niemela, MA, MBA leads a strategic management-consulting firm specializing in innovative change management, employee engagement and development programs for leaders, managers and teams that result in measurable business success and individual fulfillment. Our mission is to help business owners and managers build highly engaged workplaces and resilient, sustainable organizational cultures. Her varied client list includes entrepreneurs, small to mid-sized professional firms, and leaders from companies such as, Ernst & Young, Deloitte, Boeing, Intel, HP, Cisco and Catholic Healthcare West.