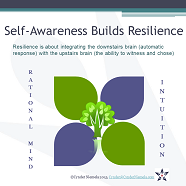 Collaborative Leadership: Take you and your company to the next level
Business has become more volatile, complex and ambiguous than 5-10 years ago. Leaders, employees and organizations with a high capacity for resilience thrive in today's dynamic global environment; those that do not build the capacity of resilience will succumb under the costs of change-induced stress and chaos in the workplace.
Most leaders agree that organizational culture trumps strategy when determining future business performance, but most cannot define, measure, or change it. As a result, the few organizations that get culture right seem magical. The leaders who try to replicate their success usually end up frustrated and cynical.
Three factors lead to better performance & personal satisfaction in the workplace:
Purpose: making a contribution
Mastery: urge to get better stuff
Autonomy: the desire to be self-directed
Leaders who learn how to unlock their business genius while also building a discipline for performance will maximize their business' potential.
Owners of small businesses can maximize their talent and time by creating 90-day micro strategies vs. the old business plans of the 20th Century
In this presentation, Cynder Niemela will take participants through two simple steps that leaders take to build resilient cultures that can do things most people think is impossible: innovating, performing, and having fun in the process.
Learn how to create innovation and think differently
Learn tools, techniques, and best practices to immediately align your business strategy with your  leadership strengths and values to achieve unprecedented results
Quickly Build Your Social Network By Fusing People Together
About My Presentation Style
Your group deserves a presentation that is inspiring yet makes a difference; I present carefully researched content to fulfill the specific interests and needs of your group. My presentation style is down to earth, practical with an infusion of humor, and fun. My objective for the audience is that they leave with clear, valuable knowledge, fresh insights and a new way of thinking.
What Qualifies me to speak on this topic?
I have a passion for identifying and engaging the talent and potential in leaders, teams and organizations. Passion and more than 20 years of experience holding executive positions and coaching executives, businesses and sports teams worldwide, I actively engage my audience with exercises, stories and case studies.
Recognized by Fortune Magazine in 2000 as a pioneer in team and executive coaching, Cynder has authored and been featured in numerous articles on the subjects of organizational culture, coaching and leadership. Her book, "Leading High Impact Teams: The Coach Approach to Peak Performance," was published in 2001 and voted one of the top 10 business books in 2002 and 2003 by CEO Refresher.
Contact us to bring this presentation to your workplace.